HOME
> NORTHWEST & NORTHEAST TOURS
Ninh Binh – Hoa Lu – Mua Cave – Tam Coc (1 day, everyday)
TOUR INFORMATION
Route
Hanoi - Ninh Binh - Hoa Lu - Mua Cave - Tam Coc - Hanoi
Hight light
Rice terraced field, cave, boat trip
Description:

Ninh Binh province is located about 90km south of Hanoi. It has many beautiful famous spots such as Mua Cave (Dancing cave), Ngo Giang river & rice fields in Tam Coc & Trang An, etc. This is a great place for adventure activities like trekking, climbing Mua mountain. You will have a stunning view and beautiful pictures of limestone mountains to cherish.
Tam Coc means 3 caves. You will be taken on a small boat, rowed by local people along the tiny canal to take you to three caves under big mountain situated between two green rice field and great limestone mountains. You can also try your hand at rowing the boat.
Come and experience all this with us ...
Code: NBTC1D
Distance:
Grade: Easy - Medium
Hight light: rice terraced field, cave, boat trip
Hanoi - Ninh Binh - Hoa Lu - Mua Cave - Tam Coc - Hanoi
Itinerary:

8:00 - 8:45 - We will pick you up from your hotel then depart to Ninh Binh. On the way, you can see the rural life in Vietnam with blooming green fields, buffalos eating grass, ducks swimming… 10h45: Arrive in Hoa Lu Temple - the fist capital of Vietnam, built in the 10th century. You will spend some time here and take in the view.
11:00 - Reaching Mua cave which was constructed following the model of "miniature Great Wall" in China. It has nearly 500 steps which take you to up to the mountain. You will spend about one hour to do hard trekking up to the peak of the mountain where you will be rewarded with the impressive panoramic view of Tam Coc, Trang An & Ninh Binh city.
12:30 - Getting on bus to Tam Coc then have lunch with special Vietnamese food.
13:30 - Getting on small boats for visiting Tam Coc, which is about two and a half hours away. The local people will take you to discover the beauty of landscape which is called "Ha Long Bay On Land". You will see green rice fields with beautiful limestone caves. After the boat ride, you will have about 30 minutes to bike to visit countryside. You may also choose to shop at embroidery shop where villagers sell handcrafted items.
16:30 - Getting on bus to come back to Hanoi.
19:00 - Arriving in Hanoi, bus take you back to your hotel. The tour is over!
Price: $40/person for a big group tour.


Include:
A/C bus
Boat
Entrance fees
Lunch
English speaking guide
Exclude:
Note: Please bring rain coat in rainy season, umbrella, sunglasses for summer.
IN SAME CATEGORY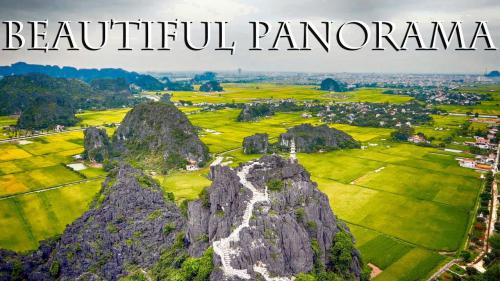 Ninh Binh – Hoa Lu – Mua Cave – Trang An (one day, everyday)
DETAILS
Ninh Binh – Hoa Lu – Mua Cave – Tam Coc (1 day, everyday)
DETAILS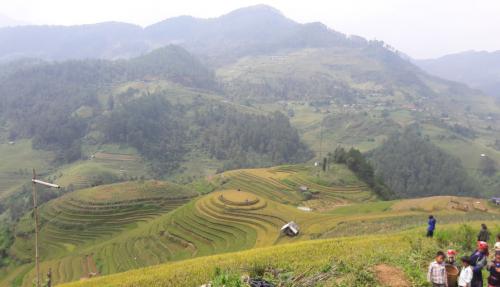 Mu Cang Chai TrEKKING & MoTOBIKE TOUR - 2 days 3 nights
DETAILS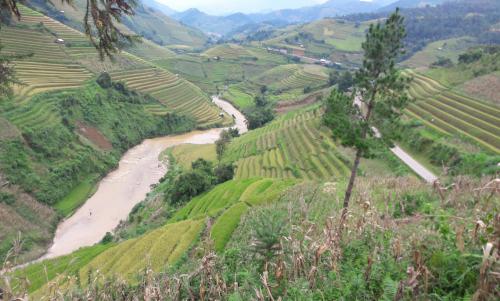 Mu Cang Chai trekking & motorbike tour to Khau Pha Pass - 2 days 3 nights
DETAILS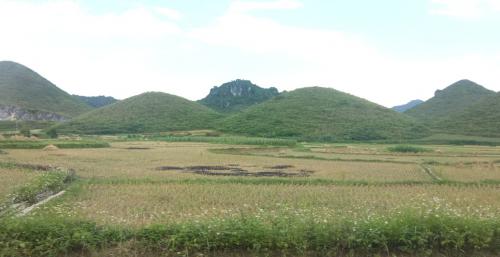 DONG VAN KARST PLATEAU GLOBAL GEOPARK
DETAILS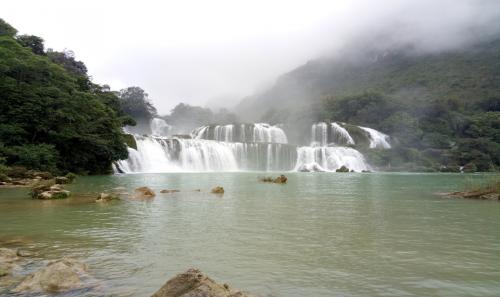 BA BE LAKE – BAN GIOC WATERFALL
DETAILS